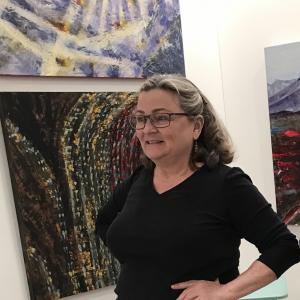 Nancy Bennett
Artist member since 2018
Toronto, Ontario
A self-schooled artist, Nancy Bennett spent her early adulthood in the 9-to-5 corporate world, then her passion for art morphed into a full-time career in 2013. Her work focuses on skies as a unifying element in our lives. She paints in oils on large wood panels, using knives, rollers and spatulas. With this hard-on-hard technique she scrapes and splays the paint in layers, building scenes and skies with hidden and obvious strokes.
Nancy exhibits her work regularly in group and solo exhibitions. Her paintings are held in private and corporate collections in Canada and internationally.
Nancy is a member of The Artists' Network and CARFAC and is co-founder of Four Corners Studio collective.
---
Best season of the year in Toronto
Spring! Colour comes back into our everyday lives.
How long have you been creating art?
All my life! I made dolls out of acorns, statues out of mud, I knit, corked, sewed, drew and carved. My formal painting lessons began at age 10.
What do you listen to when you work?
CBC radio! I spent over 30 years working on a busy trading desk. The sound of people talking, singing, arguing and laughing relaxes me. As soon as I get into the studio, I turn on the radio and get to work.
Why is it important for people to have art in their home or life?
Looking at art in your home or office lets your mind take a mini vacation from the day-to-day structure and obligations of life. Looking at art lets you brain briefly wander through colours, places, subjects or emotions. You can return to your reality with new perspective and refreshed.
Favourite medium
Oil paints. I LOVE painting in oils. The colours are rich, the paint feels lush and fat on the knife or brush. Painting in oils also connects me to the artists who came before me. The masters, the geniuses, the trailblazers and the methodicals. Though our subjects and approaches may differ, I'm part of a community that spans centuries, connected through our medium.
Beverage of choice
Tea. Strong, with milk and honey. And a biscuit.
Upcoming Exhibitions
The Artist Project 2019
Toronto

Select Past Exhibitions
2017
Sunderland Hall, Toronto
Under One Sky
2016
Agincourt Library, Toronto
Dark Pine
2014
Women's Art Association of Canada, Toronto
Kiss the Sky
2017
Orillia Museum of Art and History
Tradition Transformed - Group Show
Accolades
2014
NOW Magazine Readers' Choice
Runner-Up Best Artist
Press
2018
Fly on the Gallery Wall- May 2018
Fly Visits Artists of Labatt Studio
SHARE THIS ARTIST